Jeannine Kinney, DVM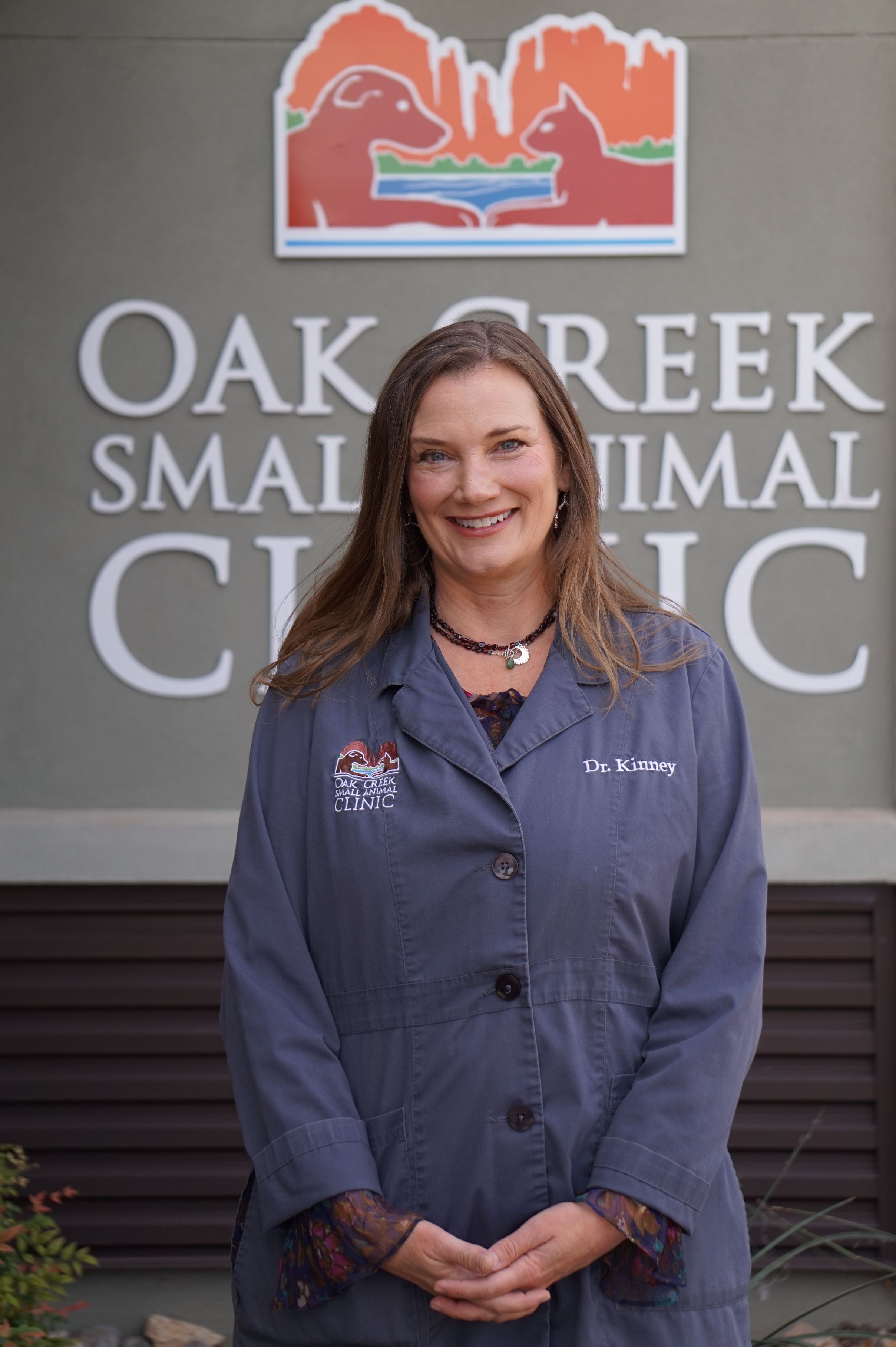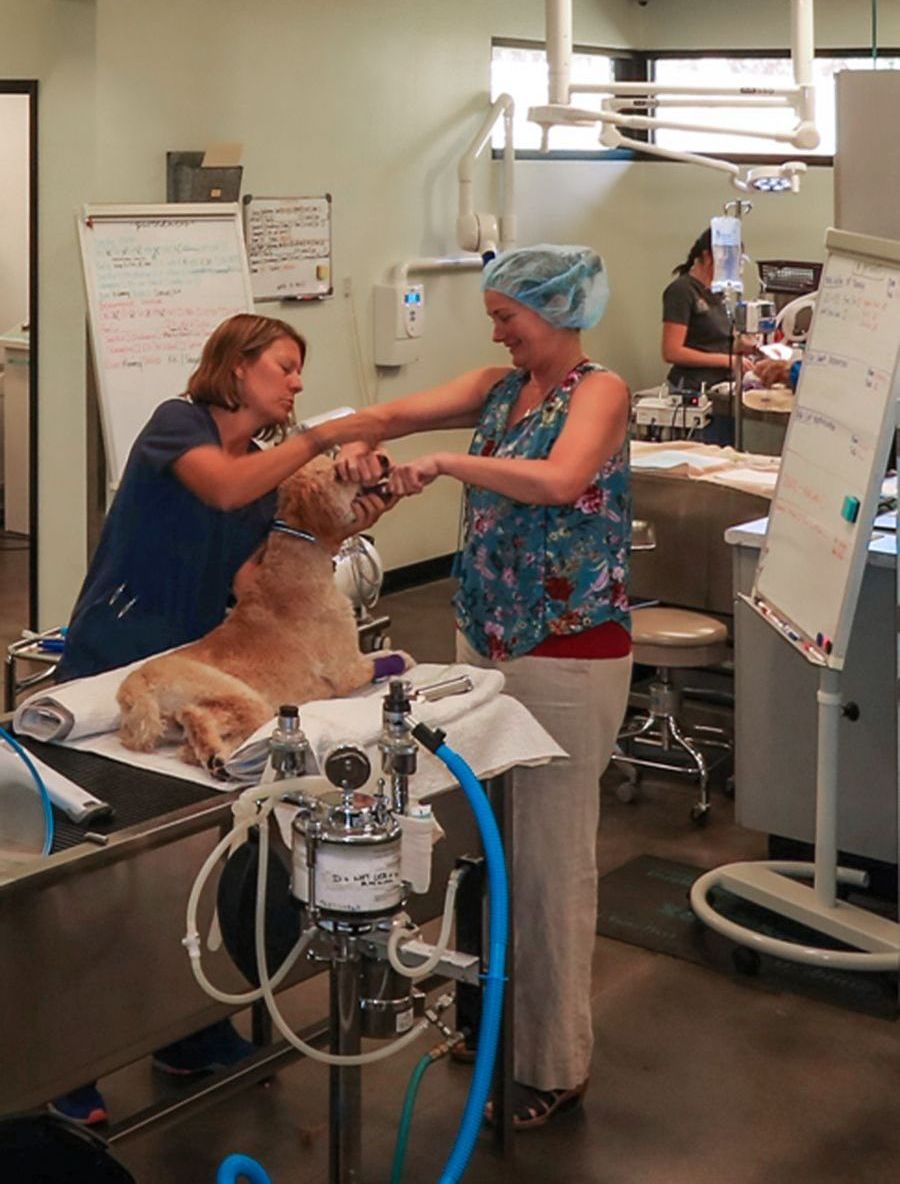 Dr. Kinney grew up in Phoenix, the youngest of four children, and at the age of four informed her mother, after visiting her own doctor, that she would be the first doctor for animals. It was all success from that point forward. Determined to excel amongst her older siblings, she skipped third grade and had barely turned 17 when she started attending college at the University of Arizona. She then completed her undergraduate requirements in three years and traveled to Washington State University where she earned her Doctorate of Veterinary Medicine. She stayed an additional year after her doctorate to complete an internship in anesthesiology where she studied this subject at a deep level and had an opportunity to work with a variety of species.

Always attracted to beautiful outdoor places and the smaller, more rural areas of our state, it was an easy decision for her to come to Sedona. She has been at OCSAC for twenty years, the longest of any veterinarian in our region, and is the owner of our practice. Dr. Kinney has a deeply rooted love for animals and nature, and an aptitude for science and education. She is committed to staying current in veterinary medicine and is the only regional member of the Arizona Academy of Veterinary Practice, an elite group of Arizona veterinarians for whom membership requires five times the state requirement annually of continuing education. She is constantly spending time off expanding her knowledge. Most recently she has studied advanced dentistry and surgical techniques, new advancements in veterinary cancer treatment, and internal medicine developments. One of her own dogs is participating in a ground-breaking study which will hopefully enhance the lives of thousands of dogs in the future who share his disease. Her next goal is completing a rigorous trek to become a Certified Canine Rehabilitation Practitioner. (She'll be able to rehabilitate felines and other species, too!) On her wish list for Santa this year is an underwater treadmill for our excitedly anticipated new hospital. She prioritizes investing in new equipment and improved technology to better provide for her patients. She also regularly contracts with various specialists to provide continuing education to the entire staff on-site, something the entire team looks forward to, CE conferences at OCSAC! Dr. Kinney's pleasure in helping owners find solutions for their pets' problems is evident when you watch her work. She loves solving problems, enhancing comfort and quality of life for our animal companions, and she especially loves puppy kisses!

Active in the community, Dr. Kinney spent over ten years as a Board of Trustee Member for the Humane Society of Sedona, and two years as the medical director. She and/or the clinic has generously sponsored numerous youth sports teams, charities, and various cultural organizations in our city. Her hobbies include swimming, yoga, hiking, good food and wine, and doing anything fun outside with her husband Marc, their two boys and their dogs. Once in a while on a day off she indulges in an afternoon nap—working more than full-time, running a practice and raising children is exhausting! She credits her husband, Marc, whom she nick-named Superdad, with allowing her to achieve all of her goals by being an amazing and dedicated partner, father, and full-time practice manager. Additionally, Dr. Kinney, and/or the clinic, has been voted best veterinarian in Sedona for more than a decade, and she and/or her team and family have been featured in numerous local publications. Dr. Kinney's warmth, competence, positivity and reassuring demeanor are her trademarks!